book online Now! Instant Confirmation
Key West Jet Ski Tours
Our 1.5-hour tour takes you 28 miles around the entire island of Key West! Our tour offers truly unique views of the island and will take you to multiple locations giving our guests an amazing jet ski ride combined with an awesome tour. The tour stops depend on daily weather conditions but may include the Key West harbor, Southernmost Point, Florida Keys Wildlife Sanctuary, Boca Chica sandbar, and a few other secret spots.
Choose your Departure Location – 2nd Rider is Free !!!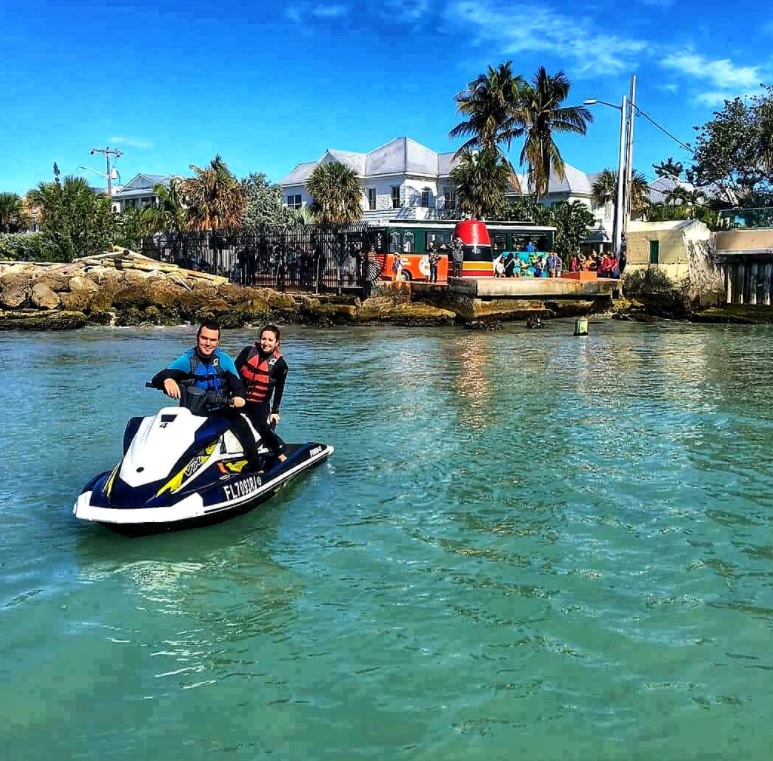 Parrot Key Departure
from $139.95
2nd Rider is Free!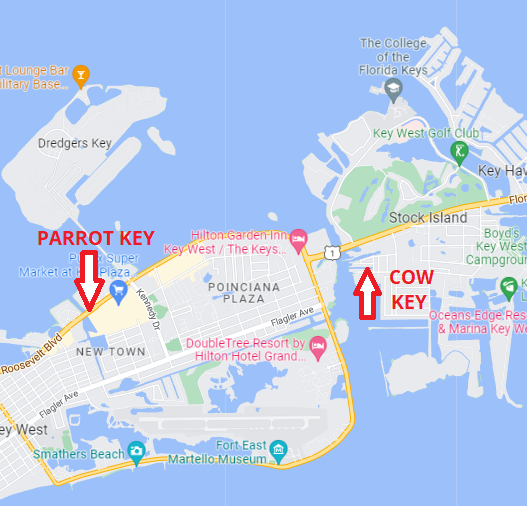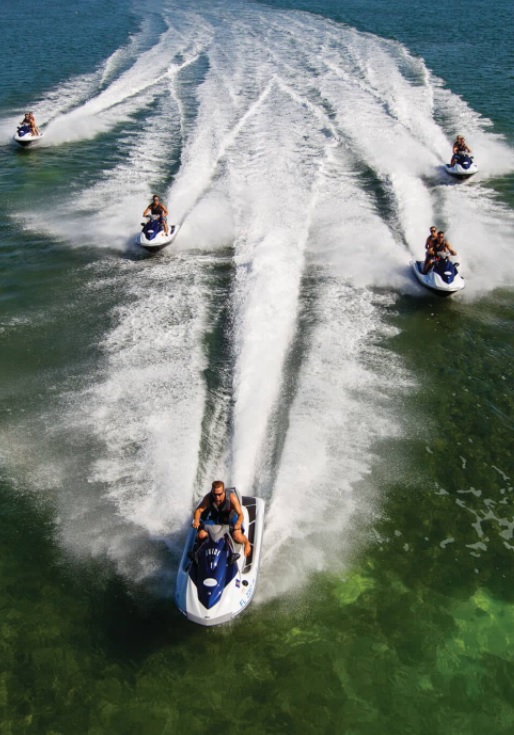 Cow Key Departure
from $139.95
2nd Rider is Free!
Required – Florida Law requires everyone born after Jan 1, 1988, to take a boaters safety test to drive a jetski. Each driver must present a passed boaters safety test prior to departure. Tests can be taken online, click here.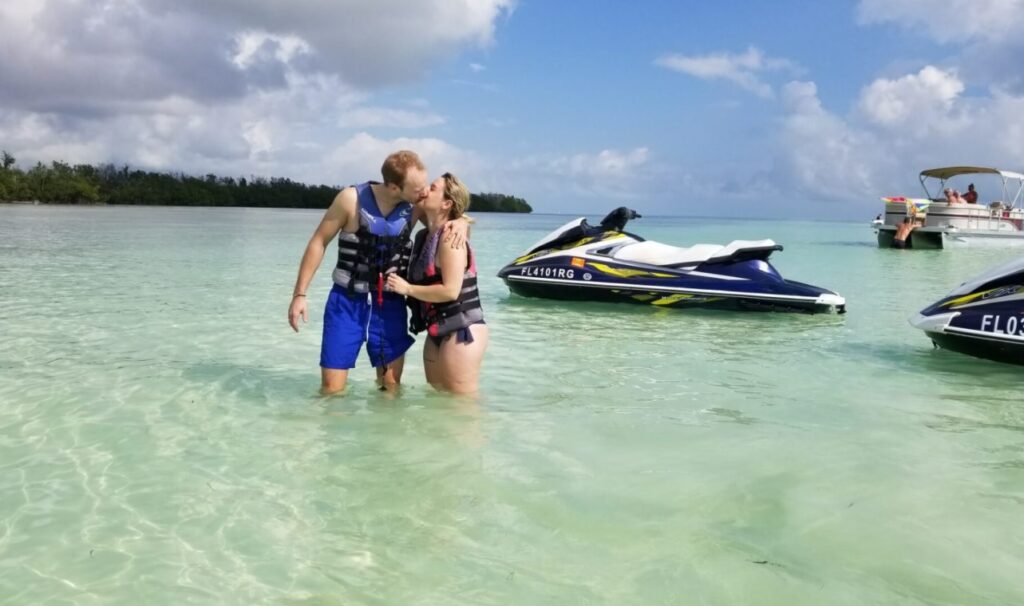 Key West jet Skis
Climb on Key West's newest jet skis for the best tour around the island. This trip includes a free second rider. Join us for the best deal in Key West. We even offer a free shuttle pick-up from anywhere on Key West (based on availability, call to reserve).
We pride ourselves on providing Key West's safest and most comfortable jetski tour on the island. This trip is consistently voted as one of the top things to do in Key West.
frequently asked questions
Do you rent wave runners/jet skis?
Key West is located in the Florida Marine Sanctuary. That means our waterways are highly protected and regulated. Jetski rentals are frowned upon. The recommended way to explore Key West via jetski is on a tour with a licensed guide. Jetski tours are the way to go.
Our tour takes you 28 miles around the entire island of Key West and is guided by our team of experts who guide guests safety around Key West each and every day. Our team will take you to places you would never find if you rent a jet ski by yourself. They will even take you to a secluded sandbar for a relaxing dip.
COVID Policies
Each machine, life jacket, and all equipment will be properly cleaned and sanitized before and after every use
All other frequently touched items around our facility will be sanitized as well
Wellness checks will be performed for guests and team members alike
We will be checking the temperatures of our team and guests alike. Guests with temperatures equal to or above 100.4 F will not be allowed on the trip.
Our team will be wearing face masks
We ask that while at the check-in line and other common areas, guests wear facemasks or buffs
We will be practicing social distancing throughout the check-in and tour process
Hand sanitizer will be available throughout the facility
I've never ridden a jet ski before, can I go on the jetski tour?
Absolutely! Our experienced jetski guides give expert instruction on how to operate the jetski and ensure each and every driver is completely comfortable before beginning the tour.
Do we stop anywhere on the Jetski tour?
Our jetski guides make multiple stops along the trip. Stops may include the Florida Keys National Marine Sanctuary, Southernmost Point, military base, Boca Chica sandbar, or another sandbar for a nice dip. Each trip stop is weather permitting. Our guides will take you to the best locations around the island based on the weather during your trip.
have a 16-year-old can they ride by themselves?
No, a parent needs to actually rent the jetski, sign the release form & ride on the back of the jetski with them. At the age of 18, we allow individuals to ride by themselves. Additionally, everyone born after January 1st, 1988 is required to take a boaters safety test.
Florida Boaters Safety: Each rider must present a passed boaters safety test prior to departure. Tests can be taken online.
The second rider is free. Can we switch drivers along the tour?
Absolutely! We make multiple stops along the 28-mile tour around Key West, which are perfect opportunities to switch drivers.
How fast do your Waverunner / jetskis go?
Our wave runners/jet skis are replaced each and every year to ensure we have the highest quality jetskis on the island of Key West. They go from 40-60 mph.
If you are not looking to go fast, don't worry! We let the speed demons ride as fast as they want while the drivers looking for more of a casual trip around the island travel in the second group.
How long does the jetski tour take?
Our jet ski tours are approximately 90 minutes long.
Where is the meeting point for this trip?
Check-in 1 hour prior to departure time
Check-in depends on the location of your tour. If your tour leaves from Parrot Key the address is 2801 N. Roosevelt BLVD, Key West 33040. If your tour leaves from Cow Key the address is 5001 5th Avenue Key West, 33040
Are there lockers at your jetski location?
We do not have lockers, but we have cubby spaces guests can use at our check-in the booth where they can leave their belongings. We recommend that guests bring minimal items along.
What is the difference between Cow Key and Parrot Key Resort jetski tours?
The tours will be the same, the only difference is their departing location.
How many people can share 1 jetski?
Our jet skis can hold up to 2 riders, with no additional fee for the extra passenger. Book Now!
Additional trip information
Key West Wave Runner, Jetski Tours & Rentals
This action-packed 28-mile jetski tour is between 1.5 – 2 hrs long. Our entertaining and experienced jetski guides will show you how to use the equipment and then take you completely around the island to see the Key West coastline.
Stopping at 5-6 different locations sharing some historic & fun facts about the island. Some of the stops include the Southernmost Point, Key West Harbor, Submarine Pits, and a Local Sandbar where we get off for a swim.
This trip is great for new & experienced riders. Our experienced and knowledgeable Waverunner guides split the group up to allow the thrill-seekers to go full throttle and those looking for more of a leisurely scenic trip can enjoy the sights.
All of our wave runners are replaced every year so you are using the newest Jet Ski / Waverunners in the Florida Keys. Our Key West Jet Ski / Waverunner tours include gas with no extra charge for a second person.
Each year we get a completely new fleet of jet skis to ensure our guests are always riding the best equipment. Proudly operating the safest jetski tour in South Florida. Each tour is guided by our local experts. This activity is great for beginners and expert jet ski riders.